Plymouth Nursery's founding brothers John, Joseph and Peter DiJiosia started a lawn maintenance company in the main line area of Southeastern Pa.  The nursery was purchased in 1965 in Plymouth Meeting, Pa. We are able to choose from an extensive, varied inventory of plant materials when developing our landscape designs. Over the years PN & LC has expanded into many areas of the landscape industry. Our varied capabilities coupled with our outstanding customer service are our greatest assets to our clients.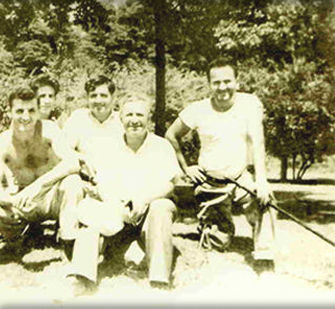 Reviews and Testimonials
Joe, Jose, Arturo and Mauricio were all extremely professional, prompt and did an excellent job. Not only did they build an extension to our flagstone patio including a retaining wall, but they reset our existing patio as the previous contractor did not set it right. Would hire again.
Description of work:
Flagstone Patio
Category: Landscaping, Landscaping - Hardscaping & Pavers, Patios
Work Completed Date: 5/2/2021
6/4/2021 - Allison Weimer
5.0
It went GREAT! me and my husband are so very happy with the completion of the fish pond and beautiful landscaping. What a joy to hear the waterfall, see the beautiful, colorful plants and enjoy the fish. An awesome crew was there everyday to work on the pond. It was so much fun to watch them and learn about the pond. I have alot to learn now:). I would highly review John and his wonderful workers to anyone considering to put in a fish and or garden pond. Please say HI to everyone that worked on the pond.
Description of work:
Waterfall Pond Lighting Landscaping
Work Completed Date: 5/11/2021
4/23/2021 - Mary Levari
5.0
Excellent work. Timely completion. Fair price. Highly recommend.
Description of work:
New front walkway and new rear patio
4/7/2021 - Stephen R. Batschelet
5.0
I hired Plymouth Nursery after speaking with several neighbors who recommended this company. I met with John the owner and found him to be very knowledgeable and very professional. I moved into my home in November of 2020 and discovered that when it rained there was a tremendous amount of water that would build up in front of my front t door. John offered several solutions and I elected to address the drainage issue with a French drain solution around the front and side of the house. In addition, Plymouth Nursery installed a flag stone porch and walkway with Belgium blocks as a border. Lighting was included in the package as well as new shrubs and plants. The team that worked on my property were very courteous and professional. John checked on the status of his team every day and kept me well informed. The end product exceeded my expectations and my family is very pleased with the final product. I found John to be honest and true to his word. I am very satisfied with Plymouth Nursery and would hire them again in a second. It is difficult to find a reliable contractor who provides detailed scope of work with itemized costs. John was great to work with and his team members cleaned the site every day. I had 3 quotes and Plymouth Nursery was the only contractor who provided an itemized scope of work and a company who I felt comfortable dealing with.
Description of work:
New walkway, landscape lighting and landscaping
3/31/2021 - Mitch Yanak
5.0
What the a crew of Jose, arturo, eber accomplished with truly a miracle. They spent two weeks working harder than any three-man I've ever seen. The end product was magnificent. it is truly a work of art. One of the three musketeers was truly a genius. He had always a ruler in one hand and a label on the other. Always had a bright idea / concept in mind. When I saw the end product, I truly gasped.
Description of work:
Steps/stairs done.
3/28/2021 - Jan Taylor
5.0
In a word?  Great.

In this day and age, you are hard-pressed to find someone who can make and keep a promise.  Whose word is his bond.  John DiJosia is that person.

The Plymouth Nurseries crew are also masters at what they do.   I had them do a masonry wall, 2 sets of steps, several stone pathways, plant about 50 trees, an irrigation system, and a lawn.  They did a great job with each element of the project, and also fixed things that didn't go right.  Just as importantly, they were on time and on budget.

I would recommend Plymouth Nurseries without hesitation for any project involving your backyard.  



MJ Frumin
5.0